Christmas Santa Float Appeal - 2015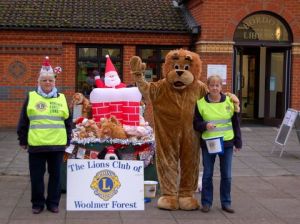 Woolmer Forest Lions pulled out al the stops and organised a series of Santa Floats on 18 and 19 December in Bordon in order to collect donations in order to support the community, in funding requests. Santa and Rory the Lion delighted young and the not so young with their presence and constant carols that rang from the float. Thanks to the generosity of the members of the public we raised £793 at Bordon Library and Tesco's on a thankfully mild but worthwhile couple of days.
Santa's float also visited Grayshott Pottery, The Chocolate Frog and Rake Garden Centre and another £200 plus sum was raised. Ray Payne, who looked after the float said, "This was a 'Grand Effort' in the truest sense of the word, and on behalf of Woolmer Forest Lions he wanted to thank all the people who donated money and the Local Businesses who allowed Santa and his helpers to visit their premises. The Club will look to spend the money wisely on deserving causes during 2016, and the Woolmer Forest Lions wish everyone a Merry Xmas and a Happy New Year.