July 2016
Woolmer Forest Lions welcome 1st Vice Governor Peter Burnett, on his first official visit to a Lions Club
Club President Tony Vaus receives the District Governor's banner from Peter Burnett, the 1st Vice District Governor to commemorate his first official visit on the clubs July Business meeting, held on 4 July 2016. Tony hoped that Lion Peter had enjoyed the evening, and it was a pleasure to see him.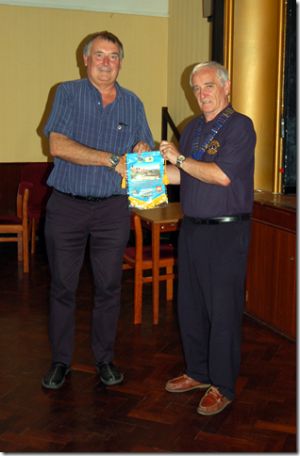 Ist VDG Peter Burnett with Club President Tony Vaus
Photograph: Raymond Payne
The club started the new Lionistic year with a visit from the Vice District Governor, Lion Peter Burnett, whose picture graces my editorial for July 2016. Having a group of officers in the Lions not only enables club's to have back-up and advice, it also provides those Lions, who wish to take up higher office, the chance to do so. Our club is lucky to have amongst its members past Zone Chairmen and Secretaries, who have all served our area.
As you may have seen we had the pleasure of presenting a £1,000 cheque to the Elizabeth Fitzroy charity. I am sure that many of you will know them from their local Donec homes. It was to the Grayshott Donec home that we presented the cheque. This will enable them to start work on a sensory garden to benefit not just their residents, but also their tireless band of helpers.
I wonder if we saw you at the Forces Day at Bordon or at the Unusual Plant Sale at Selbourne? I hope we did. If you donated money at either of the events, can I please thank you on behalf of Woolmer Forest Lions - the money you donated will go to local good causes.
Next month as well as helping out at Bordon's Activity day (Saturday 13 August), this month on 17 July, we are off on a canal trip as one of our many summer social events, so if we see you, then please feel free to drop by and say hello.
The club like many similar organisations are always seeking new members, and please feel free to attend our regular Business meetings held on the first Monday of each month, unless it clashes with a Bank Holiday, or contact the club via the website. If joining is a step too far, but you have the time to help with certain club events, then we would love to welcome you as a Friend of Lions. We always welcome a willing pair of hands, so please have a think about it, and if you can help, then we would love to see you.
Tony
Club President