March 2018
Easter Egg Appeal 2018
Confirmation has been received from the following outlets that they will be supporting this years Easter Egg Appeal in support of 'Canine Partners.'
Altis Tools (Lindford)
Applegarth Farm Shop (Nr Waggoners Wells)
Badgers Wood Surgery (Headley)
Barbers Shop (Chalet Hill)
BTE (Woolmer Trading Estate)
Country Market -Coffee Shop
Crown Inn (Arford Village)
Flying Bull Pub (Rake)
Fox & Pelican
Grayshott Vets
Grayshott Social Club
Greatham Inn
Headley Fine Foods
Holly Bush Pub (Headley)
Lindford WMC
Morlands Lodge (Nr BP Garage, Hindhead)
One Stop Shop (Heatherlands)
Red Lion Pub (Oakhanger)
Red Tea Rooms (Grayshot)
Royal Exchange (Lindford)
Royal Oak (Passford)
Social Club (Grayshot)
Spread Eagle (Liss)
The Cricketers (Kingsley)
The Jolly Drover (Rake)
The Links Tavern (Liphook)
The Old Dairy Coffee Shop (Bordon)
The Whistle Stop (Liss)
Vets (Chalet Hill)
Vets (Crossways Road, Grayshot)
Woodlark (Whitehill)
We thank all the above outlets for their support.
Easter Egg Appeal 2018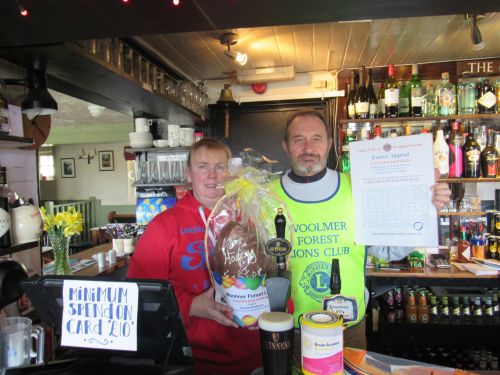 Marion - Owner of The Red Lion Public House at Okahanger with Lion Vic Machin
Many congratulations to the Red Lion Public House in Oakhanger, they managed to sell all 100 squares for the Easter Egg Appeal run by Woolmer Forest Lions. This year the club is supporting the charity Canine Partners. Owner Marion is pictured with Lion Vic Machin on March 21, 2018.
We would like to thank Marion and the Red Lion customers for their fantastic support.
Photograph: Chris Webb