March 2017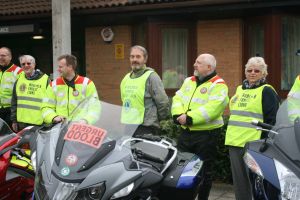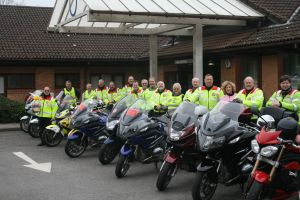 Blood Bikes and Woolmer Forest Lions - March 2017
I am sure you have all heard of the Hairy Bikers ... but I wonder if you have heard of the Blood Bikers? They are a charity organisation new to me. They operate across the UK with a local branch operating across our region. Doing what I hear you ask? Well they are all volunteer bikers who undertake deliveries of Blood/ Plasma, Organs and even expressed milk for premature babies to hospitals within the NHS.
All of their call centre staff are volunteers as well. Last year they made 39,000 bike runs across the UK, transforming and saving lives. So I am very pleased to be able to tell you that we have chosen the Blood Bikes to receive all the monies we raise through our 2017 Easter Egg Appeal. We were delighted that 11 Blood Bikers came to Chase Hospital on Saturday 11 March 2017, and we were able to take some photographs to mark our joint collaboration. Some of the photographs are shown in my report.
Where can you buy raffle tickets for the Easter Egg Appeal, shortly our webmaster will publish a full list of local outlets, which includes many local public houses and clubs, so watch this space.
We shall be out and about on the 25th March at Rake Garden Centre supporting the collection for Marie Curie, a really worthwhile cause which the club supports each year, maybe we will see you there?
Our sister club Alton Lions have just released the date for their 10k Run, which is on Sunday May 7 - we shall be there helping with the marshalling, so if there are any local runners who want to take part in this, just visit their website for full details and WFL cub members will be there to cheer you on.
I recently read some statistics that surprised me: Globally each Lion member activity leads to helping on average 70 people, so if you think you would like to help your local community get in touch and come and join us.
Lion President Tony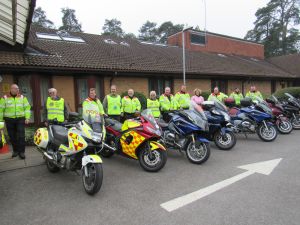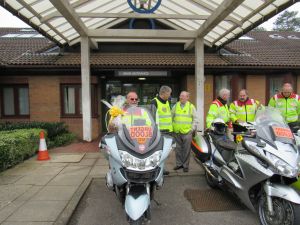 Photographs: Tom Ferguson and Chris Webb