August 2016
Last Months
RIVER TRIP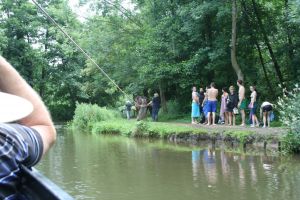 Woolmer Forest Lions - Social Event
River Trip held on the River Wey on 17 July 2016

Events Held
ACTIVITY DAY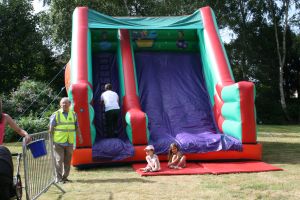 Fun at the Slide
Photograph -Courtesy of Tom Ferguson

Saturday 13 August 2016
Forest Centre, Whitehill
Bouncy Castles and Games
QUIZ NIGHT inc Homemade Soup and Pudding
Friday 30 September 2016
Headley Village Hall
7pm
Tickets cost £6
Payable on the night or can be reserved using Freephone Number 0845 833 7858
Please bring your own drinks and glasses
LIONS MEMBERSHIP
Your Local Lionís Club Needs You!
Woolmer Forest Lionís club are a group of local volunteers fundraising in the
local community, for the local community. The areas in which we live and
fundraise encompasses Liss, Liphook, Bordon, Whitehill and Grayshott . All the money we
raise supports local good causes in our area.
The club is looking for new members to get involved and help us to continue and expand
our fundraising and volunteering efforts. We meet at 7.30pm, on the 1st Monday of each month at Lindford Social Club, unless it falls on a Bank Holiday.
If you would like more information or would like to come along and see what we do then please:
We are ordinary people doing amazing things, so if you can spare a few hours of your time a
month, then we would love to hear from you.