Maddie' s Project - 2015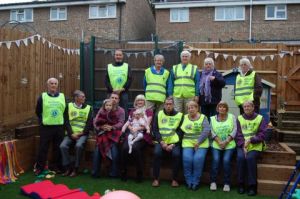 Woolmer Forest Lions took a leaf out of Alan Titchmarsh's book and did their own version of ITV's hit television show 'Love Your Garden' to transform the lives of a local family. The local family in question are three year old Madie who lives with her sister Harriet, who is six and their parents Leigh and Lianne Thayre, who live in the village of Headley Down. Sadly Maddie suffers from the rare genetic condition commonly known as Cri du Chat syndrome, which affects 1 in 50,000 births; this condition causes delay in both physical and mental development, such as restricted movement and Maddie can only pull herself along. When the family moved into their current home, they soon became aware that the garden was unfit and dangerous for the girls to play out in, for example earthen banks were prone to collapsing and the patio slabs were cracked and uneven. The plight of the family came to the attention of Woolmer Forest Lions in the winter of 2014 and what was locally to be christened 'Maddie's Project' was launched without delay.
A local builder was approached and he met with the parents and suggested ways to build a garden, safe for the two girls to play in. To raise funds for this project the Lions took delivery of 30 large chocolate Easter eggs, for local pubs and coffee shops to raffle, with all proceeds going to the 'Maddie's Project.' An amazing £2,400 was raised and a local landscape gardener offered to help.Work on the garden began in mid-August 2015, the earthen banks were made secure with new sleepers and topped off with bark-chippings. Half the patio was dug up and replaced with top-quality Astro –Turf, by a local specialist. The cost of the Astro-Turf was met in full by a kind donation given by the Three Parishes Fund.
In no time at all, after a great deal of hard graft the garden had been transformed. The local landscape gardener and the men from 'Mow n' Blow' offered their services for free and local builder Paul Withey donated £1,000 to cover the cost of materials. The money which had been raised but not spent was put to good use; a professional fencer was employed to erect a new fence, which finished off the garden, in a fitting way. With the remaining money raised, the Lions were able to purchase some suitable outdoor special needs toys, and supply a table with two benches, and Lion President Tony Vaus kindly donated a B-B-Q to round things off nicely.
The 'official' opening of Maddie's garden took place on Sunday 18 October 2015, and the family were thrilled and speechless and very grateful with what had been achieved. Woolmer Forest Lions were proud to help, and hope the family enjoy the garden for years to come. We want to thank the people of Bordon and surrounding villages who supported this worthy project. Lastly we must give a special thank you to the gardening professionals who contributed to making this garden makeover a reality.