April 2020
Coronavirus Pandemic
Given the current Government advice on staying indoors and social distancing, everything more or less has come to a grinding halt.
Woolmer Forest Lions club will not be holding monthly meetings until we get the green light to re-commence meetings, when it is safe enough to do so. Obviously, future events within the club and the wider community have also been cancelled until further notice.
Nevertheless, Lions Clubs have a great tradition in supporting the community in times of national and international crisis If individuals need help then please do not hesitate to contact us, via the Freephone Number or the website. We will help where we can, for example, if a kettle needs replacing, and someone is in isolation. Of course, our members are bound by the current restrictions on only going out of the house for essential needs.

If we cannot help you directly, then rest assured we will ensure that the correct organisation are informed, so they can meet your requirements.

Woolmer Forest Lions want to say a big thank you, to all the NHS Front-line staff, support workers and all the other people such as Royal Mail, Council Staff, Teachers, Child Minders, Care Workers who are helping the country combat this virus. We really appreciate what you are doing.
Chris Webb
Website and PR Officer
A BIG THANK YOU TO FLITE TRAK FOR FACE- SHIELDS DONATION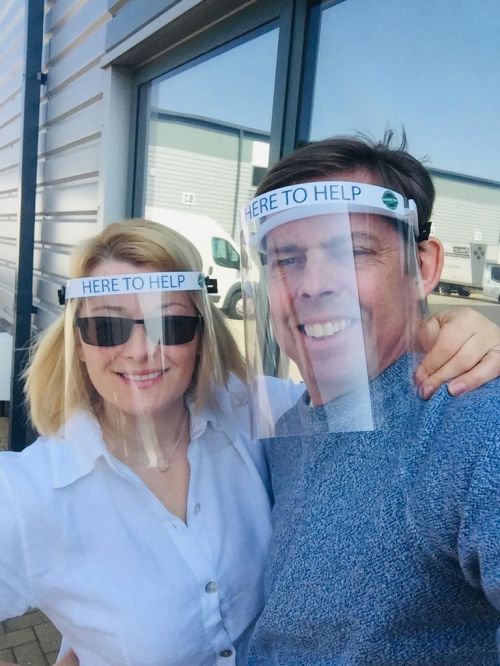 Andrew Barnett poses with his wife Anna, wearing the protective face - shields he made and donated

Woolmer Forest Lions are pleased to place on record our appreciation for the efforts of Andrew Barnett, the Managing Director of Flite Trak Ltd, based in Lee-on -Solent who has helped in the fight against the Coronavirus pandemic.
He has used his company's 3D printers to produce 50 protective face -shields, and he has donated them to Woolmer Forest Lions. Joanne Wilson, Vice President collected the face-shields and distributed them between 6 Elifar managed Care Homes in and around Bordon. The Care Homes have expressed their appreciation to both Andrew and Woolmer Forest Lions for their efforts
April 24, 2020