December 2021
Last month I had the honour of laying our Lions wreath at the Bordon War Memorial to commemorate the end of hostilities of the Great War. It was a moving occasion and it was lovely to see such a large turnout of local people.
With Christmas now fast approaching we are into one of our busiest months of the year. Our Christmas food parcels are nearly ready to be given out to local people in need of a little extra support and they are looking particularly cheery this year thanks to the lovely Christmas Bags for Life donated to us by Tesco Bordon.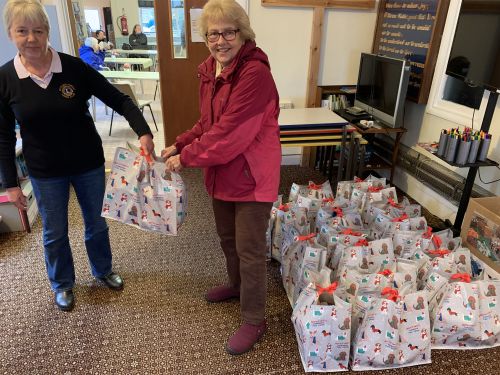 Christmas Food Parcels for Headley

Santa's sleigh has been spruced up and given some new extra sparkle. We will be out and about with the sleigh at various locations between now and Christmas Eve, so please come along, say hello and maybe drop a few coins into our collection buckets. Check on our Future Events page on the website, or on Facebook to find out where we will be.
Our first Christmas event was held at the Whitehall and Bordon Christmas Fair where we manned a children's tombola stall. After an appeal on Facebook we received many donations of cuddly toys to have on the tombola, so a big thank you to all of you who donated. We saw many happy little faces on the day when winning tickets were drawn.
But it is not all work for us, we are looking forward to our Annual Christmas Meal when we will get the chance to socialise, eat well and have a little toast to a successful 2021.
On behalf of Woolmer Forest Lions Club I would like to wish you all a peaceful and healthy festive season and thank you for your support over the past year.
Joanne Wilson
WFL Club President