October 2018
Bordon Residents Help Indonesian Victims
Following the recent Indonesian earthquake, which triggered a tsunami devastating the city of Palu on Sulawesi island killing 2,103 and leaving 5,000 unaccounted for, the Indonesian government sent out an urgent message requesting international assistance.
On hearing this, Woolmer Forest Lions Club organised a Disaster Fund Appeal outside the Library in Bordonís Forest Centre where members of the public could leave cash donations to help survivors in their hour of need!
Lions Club President Richard Balchin explained: Woolmer Forest Lions are here primarily to help local people and deserving causes within our own community but we also respond to the call of help involving international disasters!.
Iím pleased to report that donations gratefully received from members of the public in support of our appeal totalled £345.00.
Lions members felt that this figure should be matched by a donation from the Clubís Charity Fund bringing the total to £690.00.
Further to this end, by making use of Gift Aid and the Governments pledge to match donations £pound-for-£pound we were able to considerably increase the amount further to £1,725.00 which has since been forwarded to Indonesia and to those so desperately in need of help following this tragedy!
I should point out that every penny donated to a Lions collection/cause is used for the purpose it was given as all overheads are met by Lions members themselves. Furthermore, as custodians of public donations it is our duty to ensure that they are also used wisely.
Woolmer Forest Lions Club sincerely thank the people of Bordon & surrounding areas for their kind generosity and support for our appeal.
Vic Machin
WFL
APPLE TASTING 2018
BLACK MOOR ESTATE
OCTOBER 14 2018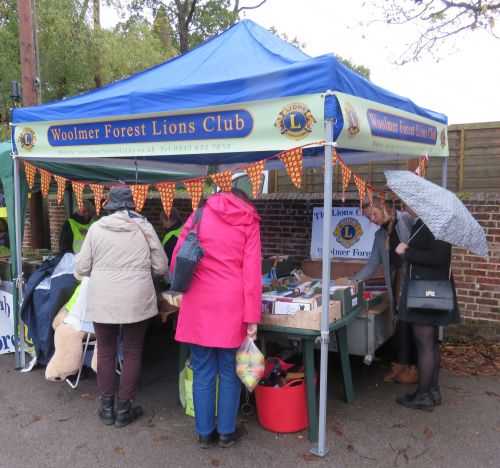 WFL Stall - Apple Tasting

Despite the rain, Woolmer Forest Lions once again oversaw the car parking, and the club is pleased to report we raised over £1250, in what could be described as very challenging conditions.
We would like to thank the community for supporting us. Grateful thanks to the Club Members and Friends who attended, as well as the Lions from other clubs, who turned out and did a great job.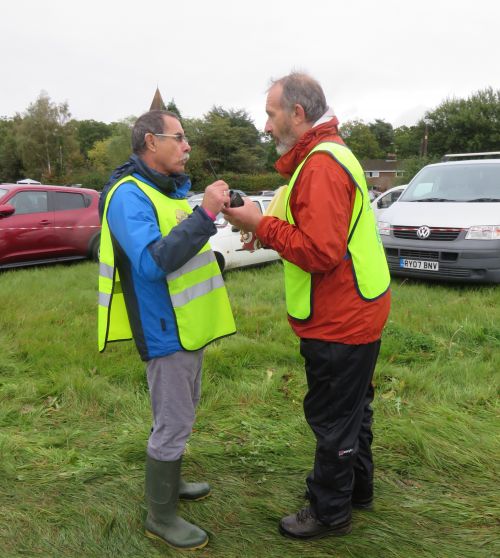 WFL Lions John and Vic - Outstanding in their field

All photographs courtesy of Daphne Chennell - Thank you Daphne Much Appreciated.
You can see more photos in the Gallery -all kindly supplied by Daphne.