November 2017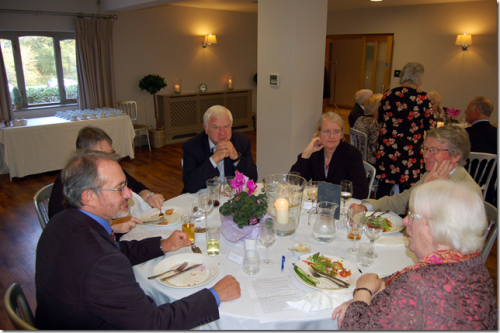 Lions that Lunch - Charter Lunch - Blacknest Golf and Country Club (Photo Ray Payne)
Dear Readers,
I wonder if you were amongst the 2,000 or so cars that we helped park at the recent Apple Tasting Day at the Blackmoor Estate? Or perhaps you were one of the many that donated or visited our stall and made a purchase, or bought a Tombola ticket. If you were, thank you for your fantastic support. The combined collections will greatly assist our charitable work for the next year.
Today we heard that the Blood Bikers, who we donated some funds to, earlier this year, have been awarded the Queens Award for voluntary services to the NHS. How about that - so richly deserved.
This month sees us out and about at Country Markets fireworks on the first of the month, helping with the car parking. We shall also be at the wreath laying ceremony at the Bordon War Memorial on the 10th, assisting with traffic control and paying our respects by laying a wreath on behalf of Lions Club International.
Our plans for the clubs Christmas Collection are well underway, this year you will find us in Grayshott, Bordon, Liss and at Country Markets. The dates and venues will be on the website once they are finalised. We shall also be at the Bordon Christmas Fair.
At the end of last month we reached our 36th anniversary of the forming of our club. At a very nice lunch in the Blacknest Golf and Country Club, we celebrated that milestone. A picture of Lions enjoying themselves heads up this months article, and others will appear on the website shortly. If you are looking for somewhere to pop into, please do try Blacknest; nice people and a great venue.
At the end of the month we shall launch our Christmas Food Appeal. We collect the food you donate, and redistribute with special Christmas goodies to local families, who are in need, at this time of the year. So if a Lions yellow bag drops in through your letter box, and you are able to help, the club thanks you. Your kind donations will be greatly appreciated by the families that we have helped.
All the best
Lion President Tony