October 2021
40th Anniversary Charter Lunch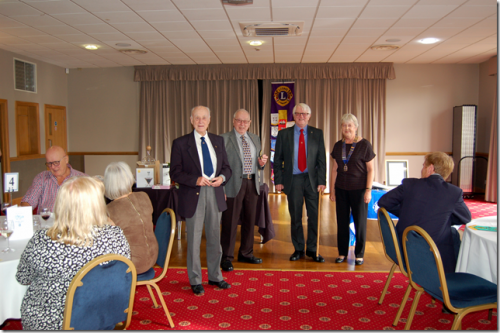 Lions Ken, Derek and Alistair presented with their awards by Joanne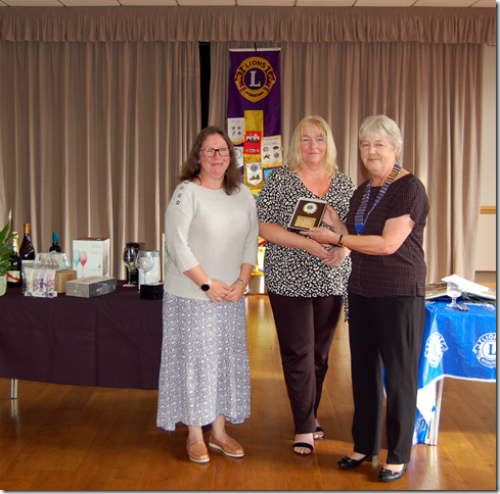 Joanne hands over a Lions Plaque to Emma and Alison from the Forest Surgery

Members and invited guests celebrated the 40th Anniversary of Woolmer Forest Lions Club with a 3-course lunch at Farminer Hall in Bordon. We were joined by three members of Alton Lions Club, our founder club, and in his speech Lion David Hodder from Alton Lions gave us an insight into how and why the club had been formed back in 1981.
During Club President Lion Joanne's speech specially invited guests Emma Sharpe and Alison Sutton, from the Forest Surgery, were presented with a Lions Plaque in appreciation of the exceptional support the Forest Surgery has given to our local community during the past year.

Joanne also presented President's Appreciation Awards to three of our longest serving members, who between them have logged a total of more than 112 years service. Ken, Alistair, and Derek, who all continue to be keen and active members, were praised for their commitment and support to Woolmer Forest Lions. Joanne also congratulated Blackmoor Apple Farm on their recent and very successful 50th Apple Tasting event and presented William Wolmer with a Lions Bannerette.
Following the formalities, a grand raffle organised by Lion Pat raised a total of over £200 for our charity fund. Before going home, both members and guests had the chance to browse albums and a booklet produced by Lion Derek , highlighting some of the club's achievements over the past 40 years.