May 2016
Forthcoming Events
Woolmer Forest Lions will be undertaking a litter clearance on Broxhead Common on May 21st 2016. This is a Lions Community Project to mark the CLEAN UP FOR THE QUEEN. 90th Birthday Celebrations. This is likely to start at 09.00 and continue for a full day.
Quiz Night
This has been re-arranged for September 30 at the Headley Village Hall - publicity needed
Fundraising Activities
Great Daffodil Appeal 2016
We are pleased to announce that the club collected £811.74p for the Great Daffodil appeal at Tesco's in Bordon, during February 2016. We would like to thank the members of the public who supported this very worthy cause.
Easter Egg Appeal
The final figures are still not in, but the sum raised for the 2 Care Homes will be in excess of £1700 and with donations from the Welfare fund, this will be swelled to £2000.
We think it is only right that we list the establishments and businesses that supported us in such a brilliant manner
Apple Garth
Badgerswood Pharmacy
Chocolate Frog
Cricketers
Crown at Arford
Downland Vets Surgery
Flamin' Tucker
Flying Bull
Fox and Pelican
Grayshott Social Club
Grayshott Vets Surgery
Greatham Inn
Fletchers House
Headley Fine Foods
Jolly Driver
Lindford WMC
Old Dairy Bordon
One Stop Headley
Red Tea Room
Royal Oak Critchmere
Royal Oak Passfield
Spread Eagle
The Hawkley Inn
Whistle Stop
Woodlark
Headley Scouts - New Windows - Community Project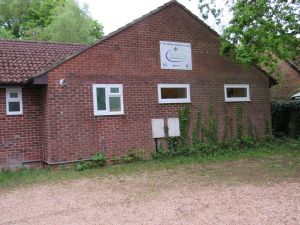 Headley 1st Scouts Building with new windows
Photograph - Chris Webb

Woolmer Forest Lions donated £500 to replace the windows at the 1st Headley Scout Group buiding in March. The windows were installed by S and C Windows
Lara Balchin-Murray - Scout Helper for the Scouts and Explores said:
"We could not have done this without the help of the Woolmer Forest Lions - its been a godsend. The new windows keep the building safe and secure."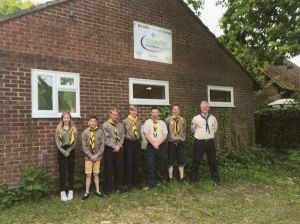 Some of the Scouts by the new windows
Photograph Courtesy of Lara Balchin -Murray

Business Meeting
Festival Day June 25 2016
WFL will be involved in the Car Parking arrangements for this event.

CLEAN UP FOR THE QUEEN. 90th Birthday Celebrations.
Broxhead Common - May 21 2016

Woolmer Forest Lions are proud to help improve our community with a litter pick at Broxhead Common today.
A number of the club led by Vic Machin helped clear up the litter - "What people throw away is truly staggering", said one Lion.
Below are the Club Members who undertook the first shift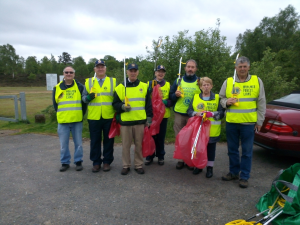 Members of WFL - Broxhead Common 21 May 2016

Photograph - Joanne Wilson
We received a nice comment from Peter E on the Streetlife website for Bordon regarding our clean-up efforts.
We were delighted to see our hard work being appreciated, and other people have echoed these comments.
We collected 19 bags of unwanted litter / bottles / cans etc and Vic Machin would like to thank the MOD for all their help and support, as well as the club members who took part.