January 2017
Presidents January Jottings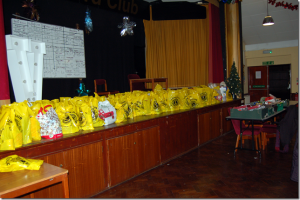 WFL - Yellow Bags Donation 2016

First of all may I wish everyone a Happy New Year
The planning of how and where to spend the money that we raised during the busy Christmas season is about to start. If you were one of the many who gave so generously to our Christmas Food Collection, enabling us to deliver just over 70 parcels of food to deserving people in our area, or perhaps you dropped some coins in our collection buckets which totalled over £1700 in our Santa Sleigh visits - myself and the Club thank you very much. The above photo by Lion Ray captures the bags standing to attention, prior to being converted into the 70 plus parcels we distributed.
Throughout the past year Lions Clubs across the world have given both their time and money in the pursuit of providing relief in times of crisis. Within our own small area we have been able to help a number of families and individuals as well as making a large donation to a local home for disadvantaged people. All thanks to the donations we received from members of the public and the time and effort provided by our Lions Club members.
Our sister club in Petersfield are holding a Quiz Night on the 3rd of February 2017, in Petersfield. Teams of a maimum of 6 - cost of tickets will be £8. All the money raised will go to three local charities, and if you are interested please telephone Clive on 023 923 40128 for tickets.
I wonder if one of your new years resolutions is to get involved with your local community? If you have made one to do just that then maybe you can join us at Woolmer Forest Lions, or indeed become a Friend of Lions, who just help us out when we need extra help. If that sounds right up your street then please don't hesitate to contact us.
Once Again Happy New Year
Lion President Tony