December 2018
Xmas Parcels 2018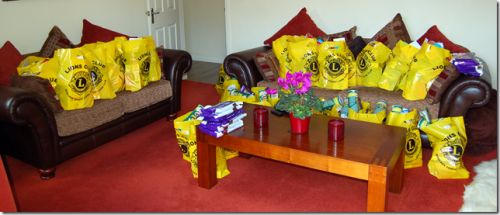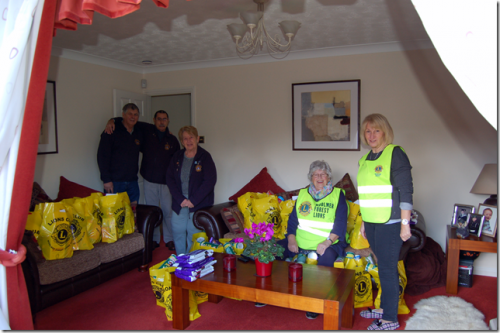 Lion President Richard Balchin, with Lions John and Catherine Dalton , Pat Payne and Maureen Johns with some of the parcels

Although we did not distribute the yellow bags to the community - Woolmer Forest Lions pulled out all the stops and made up a number of Xmas Parcels in order to bring some cheer to deserving cases in our area.
Maureen Johns the Clubs Welfare Chairman said:
' I must place on record my thanks to the Poundshop in Petersfield and Tesco's in Bordon who supplied the food for the Xmas Parcels. I must also thank the communities who donated money throughout the year, that helped Woolmer Forest Lions to make up 46 Xmas Parcels of food to hopefully ensure that people in our communities have a better Xmas.'

XMAS FAYRE 2018

WFL Stall

WFL ran a stall at this years Xmas Fayre at the Whitehill Community Centre.
The event raised a profit of £136.39p and we would like to thank the public for supporting us.
30 Years Service
WFL Club Member Alistair Gallon was presented with his 30 Years Service Badge by Club President Dick Balchin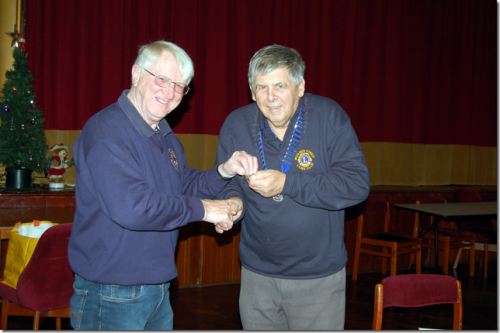 Well done Alistair

Cheque Donation to Lindford Working Men's Club to purchase a Defibrillator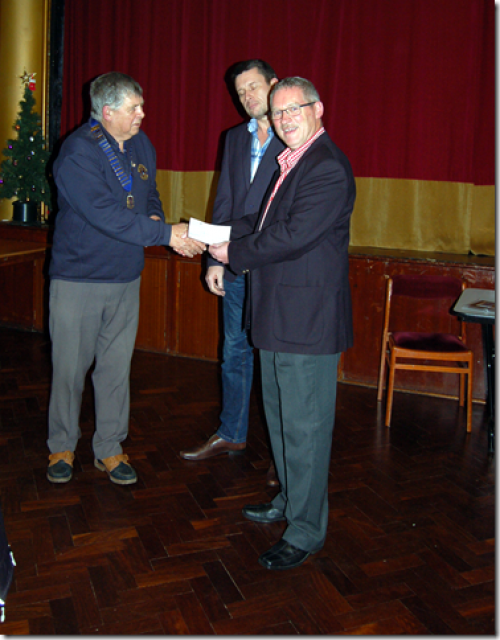 Dick Balchin hands over a cheque for £500 to Mick Mallinson and Paul Woodward to help Lindford Working Men's Club to purchase a defibrillator
Mick Mallinson, President of Lindford Working Men's Club and Paul Woodward, Secretary were presented with a cheque for £500 from the Woolmer Forest Lions Club to complete the total amount they needed to raise to purchase a defibrillator. Mick Mallinson said the donation was very much appreciated and they would now be able to go ahead and get the defibrillator, which would probably be positioned in the outside porch.
WFL Club Plaque
Club President Dick Balchin handed over a WFL Club plaque to the President and Secretary of the Lindford Working Men's Club where the club holds its monthly Business Meetings. The plaque will be on show as soon as possible.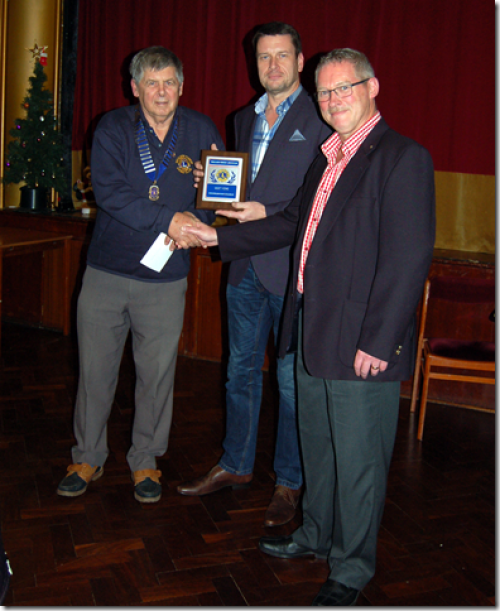 The WFL Club's new plaque

All photographs courtesy of Ray Payne

Winter Fuel Payments
People who wish to donate their Winter Fuel Payments, please see the following:
Payment can be made by Bank Transfer to Woolmer Forest Lions Club (CIO) - Sort Code 30 -93-20 Account Number 00311573
Ref WFP.
Or by cheque made payable to Woolmer Forest Lions Club (CIO) endorsed on the rear WFP
Please send to Lions Treasurer, 17 Sunbury Close, Bordon GU35 0BW