August 2016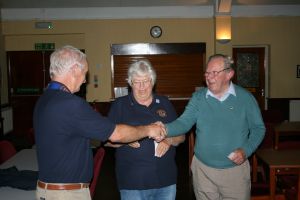 Tony congratulates Pat and Ray on their new membership pin awards
Photograph: Courtesy of Tom Ferguson

Our Business meeting started this month with recognition for two of our Lions gaining new members, Lion Pat and Lion Ray were presented with centennial pins to acknowledge their efforts. The Lions organisation does go out of its way to recognise efforts by its members - its always nice to be noted isn't it?
Plans are well underway for our much celebrated Quiz Night. This will be held at Headley Village Hall on Friday 30th, September, 7p.m. - 7.30 p.m. start. Tables of 6 people, and the cost of the tickets £6.00. This covers the Quiz and supper refreshments which consists of soup and crusty bread as well as pudding. Bring your own drinks and thinking heads! It is a fun Quiz with a raffle and silly prizes. If you want tickets then please send an email or use the Freephone Number 0845 833 7858.
Hopefully see you there?
We are off on our travels again this month. You will find us at:
The Community Activity Day in Bordon at the Forest Centre on 13 August 2016
Gilbert Whites House Dog Show on 21 August 2016
So if you see us there come and say hello
I want to take this opportunity to let you know about a very worthwhile fundraising event being held by Elizabeth Fitzroy homes. Several of you probably know them for their Donec Homes, which of course we made a large donation to one of them recently. This year on September 25th they are holding a Triathlon at Churchers College, Petersfield. Some of our clubs Lions will be assisting. If you would like to take part, or assist then please email Jim.Apted@fitzroy.org
We like many organisations would like to see our membership increase, so if you think helping your community with a friendly bunch of people is for you, then please contact Chris Birkett our membership officer on chris.birkett@gmail.com or on the Freephone Number above . If you feel that is not for you but can help out on a more casual basis, then you can become a Friend of the Lions, you will be most welcome, so please get in touch with Chris.
Lion President Tony Vaus