August 2018
Visit of District Governor Ken Staniforth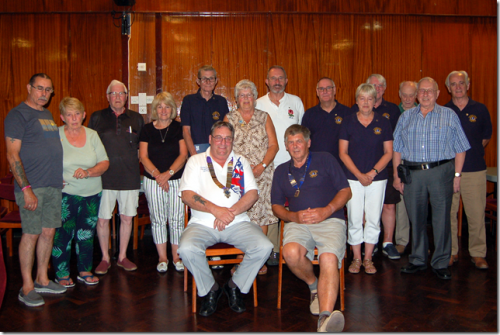 Woolmer Forest Lions were delighted to welcome recently appointed District Governor Ken Staniforth to the Club's August Business Meeting, at the Lindford Working Men's Club. Banners were exchanged and Ken gave some useful advice on building club membership, and focusing on service and working with other adjacent clubs, and other parts of the Lions organisation to man events and move the clubs forward in a positive direction.
This fine picture was taken by Lion Ray Payne

Taylor Wimpey Charity Box Scheme
The WFL Club has been advised that a Charity Box Scheme at the Dukes Quarter Development our club received the most votes from visitors in July, and we have won a £250 donation, A PR shoot will hopefully take place shortly. Watch this space!
Boat Trip - Wednesday 8 August

The Lions are a group of ordinary people who help others in the community who are less fortunate than themselves. There are 1.3 million members in 35,000 clubs throughout 202 countries across the world. In the British Isles there are 900 clubs with a membership of about 21,000.
Our motto is -WE SERVE
As a member of a Lions Club you become aware of the needs of your community and have the opportunity to effectively make a difference. We run our own events for charities and deserving causes. All funds raised by these and donations from local businesses go towards the cause as all Lions Club administration costs are met by the members themselves.
Many people may be apprehensive or even fearful that by joining a charitable organisation they are signing their lives and free time away! That is not the case with the Lions. We recognise and respect that people lead busy lives and have other important commitments such as family and work, which of course takes priority! We are therefore always very grateful and appreciative of whatever time and help a member is able to give.
Lions are a sociable bunch often meeting up for an evening meal, playing skittles down the pub or taking to the water on a narrow-boat outing, and what follows is a short article about the clubs latest trip: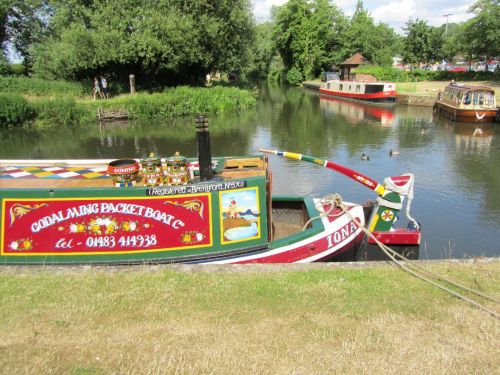 Narrow -Boat Iona
On Wednesday 8th August a group of eight Woolmer Forest Lions and their guests arrived at Godalming Wharf which is situated in the Town Centre on the River Wey and Godalming Navigations. Here we boarded the 70ft horse drawn narrow-boat 'Iona' which interestingly is one of only two boats still in operation in the country. The PacketBoat Company as it is known, is a family run business and one, we Lions, feel deserving of support. This trip has now become a firm favourite of ours and we thoroughly recommend this 2 hour return canal trip with cream tea to anyone wishing to experience a tranquil slow pace mode of transport, on this delightful and most southernly section of the canal system.
The weather was kind to us, being bright and sunny with a little breeze, just right for narrow-boating. Kevin was our Boatman for the day and following his humorous but serious Health and Safety briefing, a line was made fast to 'Alizee' a 15 hands high Chestnut French Comtois mare. When all was ready, a command in French was made and 'Alizee' lent into her harness and without any effort whatsoever, we were on our way.
Fast forward one hour, cream teas were served, 'Iona' turned around and we were heading back again, taking in and enjoying the abundance of canal wildlife, something you cannot do if travelling faster than our 3 to 4 miles per hour. What was clearly apparent and I put it down to the peacefulness and serene nature of the canal, everyone we met, be it people walking the Tow Path, canoe-users, rowers and those on board their boats enjoying a glass of something all had beaming smiles on their faces and were happy! All taking time to wave and acknowledge us, as we glided smoothly and silently along.
This scale of outgoing friendliness is sadly missed in our busy everyday lives and when it happens, it bestows a feeling of calmness and well-being in ones self. On returning to our moorings, we disembarked. We all wondered where did those 2 hours go?
We then waited for 'Alizee' to be unhitched after which, she was led to us for a farewell pat and stroke. As a French lady, who only understands commands in French, she would not have had a clue what we had been jabbering on about in her ear. On departing we all agreed what a wonderful time was had by all.
Vic Machin - Woolmer Forest Lions Boat Trip Organiser