December 2016
Woolmer Forest Lions want to say:
A BIG THANK YOU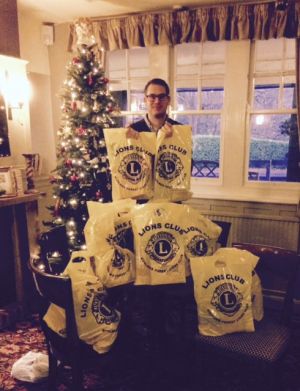 Lion Chris B. with a fraction of the yellow bags donated by members of the public from the Bordon & Whitehill Area, including Headley, and Grayshott, Liss and Liphook.

More photographs will be uploaded soon. The WFL have distributed and collected this years Xmas Parcels to be sent out this week.
We could not do this without your amazing support - to help those in need at this time of the year. THANK YOU.
Chris Webb on behalf of WFL Club
PR Officer
Thank You Feedback From Radian for WFL Christmas Hampers
Olivia Carr (me)- I would like to say a massive thank you to Woolmer Forest Lions Club for donating 22 huge bags of food for our Santa Hostel Project at Christmas. We could not believe our eyes when we saw them, and know that many families would have had Christmas made that bit more special and easier thanks to them'.
Rachel from Linford ' The food bags were a definite help especially with the busy Christmas period, it was a very nice gesture and no-one expected that- we thought Santa was coming not food and presents also! A BIG thank you to all involved!'
Lucinda- 'Thank you so much for the lovely Christmas presents Olivia, my daughter got a fantastic alphabet keyboard which is really educational and will help her a lot, it makes animal noises which she loves. The presents were a big surprise and we are very grateful- Happy Christmas'

Without the support of the public we couldn't do this - thank you from WFL

Xmas Appeal 2016
A couple of photos taken at Grayshott Pottery and The Forest Centre during Santa's Sleigh Visits. The Club raised over £1700 thanks to the generous donations by members of the public. Thank you once again for your continued support.
Merry Xmas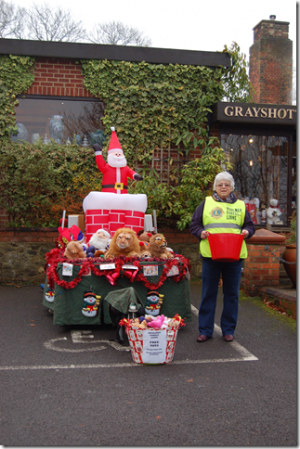 Lion Pat at Grayshott Pottery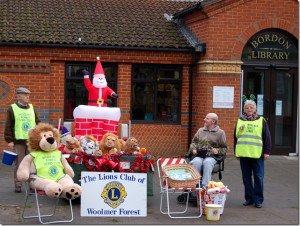 Forest Centre Collection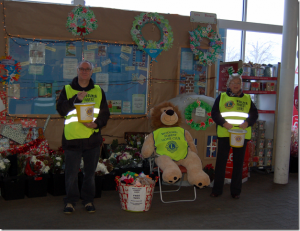 L

Lion Chris and Lion Pat at Tesco's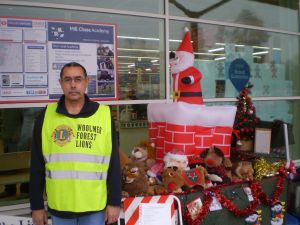 Lion John at Tesco's

December Club Meeting


Lion Chris Birkett receives an award for recruitment from President Lion Tony at the December Club Meeting