June 2016
Woolmer Forest Lions Club are appealing to members of the public to help us find a home for the club's 6ft small open trailer - within the Bordon Area.
If you have an empty garage or can accommodate our small trailer - please contact the club through the contacts page on the clubs website.
We thank you in advance
Chris Webb
BORDON FESTIVAL - BUDDS LANE
JUNE 25 2016
Woolmer Forest Lions were delighted to support this event held last Saturday.
We assisted with the car parking arrangements as well as running a book stall and various Tombola's.
The event was well attended and the worst of the British weather held off.
We are delighted to report that the Tombola and Book stall raised almost £250 on the day, we would like to thank all the members of the public that gave so generously.
The Club would like to thank the Air Cadets, who assisted us in the car parking arrangements and the Club has donated all the monies collected at the car parking sites to the Air Cadets, to show our appreciation of their efforts.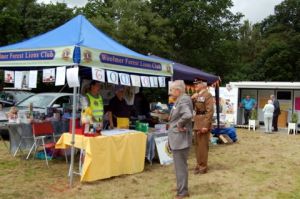 Bordon Festival - Bordon and Whitehill Mayor David Cooper and
Lieutenant Colonel (Retd) P.T. Green admire the WFL Stall

Photograph - Courtesy of Raymond Payne
Easter Egg Appeal 2016
Donation to Donec 30 June 2016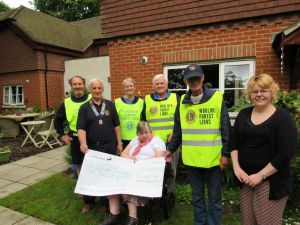 Members of the Woolmer Forest Lions Present a
cheque for £1,000 to resident Sheena Farman and Deputy Manager Mel Edwards of the Donec Mews Home in Grayshott
Photograph Courtesy of Jim Apted
Following on from this year's successful Easter Egg Appeal in the Spring, Woolmer Forest Lions donated the first instalment of some of the money raised to provide sensory equipment to the residents of the Donec Home in Grayshott on 30 June 2016.
Jim Apted, the Community and Fundraising Co-ordinator for Fitzroy, based in the Head Office in Petersfield, paid this tribute to Woolmer Forest Lions and the public:
"£1,000 is an amazing amount and will do wonders in helping them to create a sensory experience in the garden. It will be really lovely for everyone who lives at Donec, especially those who have limited communication skills. The support of Woolmer Forest Lions and the local community is very much appreciated by us all. "
Deputy Manager Mel Edwards added: "Thank you Woolmer Forest Lions for your donation. £1,000 is an incredible amount and will help us greatly to create a sensory space in the garden, which will benefit all who live at Donec Mews."
Derek Port one of the chief organisers of this event for Woolmer Forest Lions said, "The club would like to thank all the local businesses who took part in selling the Easter Eggs Raffle tickets, and the public for digging deep and supporting such a worthy cause. Thanks to their generosity the club has been able to purchase much needed sensory equipment for the Donec Home in Grayshott."